The Video Chat Magic Collection
All our tricks, utilities, concepts, essays and more.
The entire current Video Chat Magic collection is laid out below. Each piece comes with a short description and everything is categorised into either tricks, utilities, concepts, essays, or miscellanea.

We suggest new subscribers start by reading this Essay first and then this.
If you haven't already subscribed then donating today will give you instant access to everything below plus the next eight new items, as they are released.
Visit www.VideoChatMagic.com for more information on the project and our contributors.
Tricks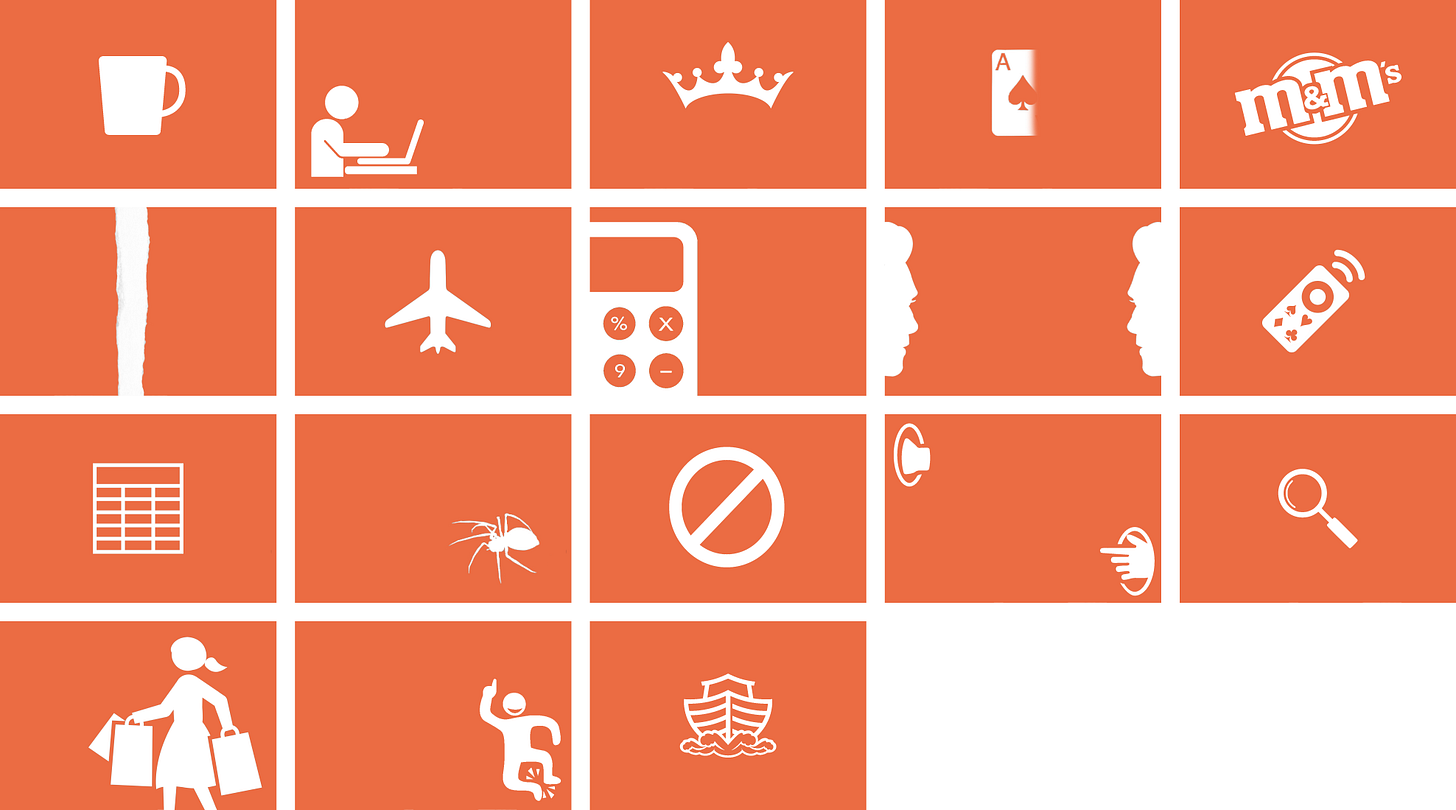 Jackpot M&Ms - A startlingly precise series of predictions. David Britland's take on The Trick that Fooled Einstein with a chance for some astonishing kickers.
Stop! - A spectator selects a card off-camera and it is lost in the deck. Even so, the rest of the audience team up to find it.
That's Not Remotely Possible - Correctly name the cards several people peek in their own decks, with their cameras off, despite being in a completely different place!
Bonus: Wishing and Making it So… - Jim Steinmeyer's original Wishing and Making It So. The devious divination of a thought-of card using an unusual and complex method.
Wishing and Making it So… Online - Explore how we can use the features of video chat to simplify and enhance Jim Steinmeyer's impossible card divination.
Schizophonic - An off-beat and humorous bit of physical quirkiness from the prolific and inventive Tobias Dostal.
Bonus: The Ultimate Add a Number - Luke Jermay's hard-hitting routine, The Ultimate Add A Number. A showstopper for stage performances.
A Toxic Hess! - "Zoomifying" Luke Jermay's Ultimate Add a Number for the video chat environment and introducing a remarkably fair, whole-audience, mathematical force.
Finding Your Better Half - A particularly direct and deceptive version of Woody Aragon's collective 'ritual,' How to Find Your Other Half, for everyone in your video chat audiences.
Trick Shot - An ultra-clean and eye-popping card to box looks like a camera trick and is particularly impossible. It could never be accomplished in the 'real world.'
Letting Go of Tricks in Favour of Experiences - A powerful example of how magic on video chat can offer opportunities for emotion, conflict, resolution, drama, and exceptional levels of audience engagement
Discovering Virtual Magic - Adrian Lacroix shares a video chat Out of This World, as well as describing his early evolution as a creator of magic for video chat.
Participative Princess - An update of the venerable Princess Card Trick for video chat, featuring a custom set of gaffed cards you can easily make at home.
Videoport - A live, remote, interactive, in-the-hands miracle! Make a playing card disappear and reappear in an empty envelope in your spectator's hands.
The Case of the Least Suspected Suspect - Jim Steinmeyer returns to Video Chat Magic with a murder-mystery trick especially designed for performance in video chat settings.
Harry Riegel's Retail Therapy - A devious online tool from Harry Riegel. A fun shopping spree leads to an astonishing series of revelations. 
A Card Trick/A Trick with a Card - A Prediction Routine using MagicMask and an Alignment Tool designed by Andrew Evans.
The Humans went in Three by Three - We did it! We got the Zoom corporation to enable Touch the Screen interactive tricks. You're welcome. 
Utilities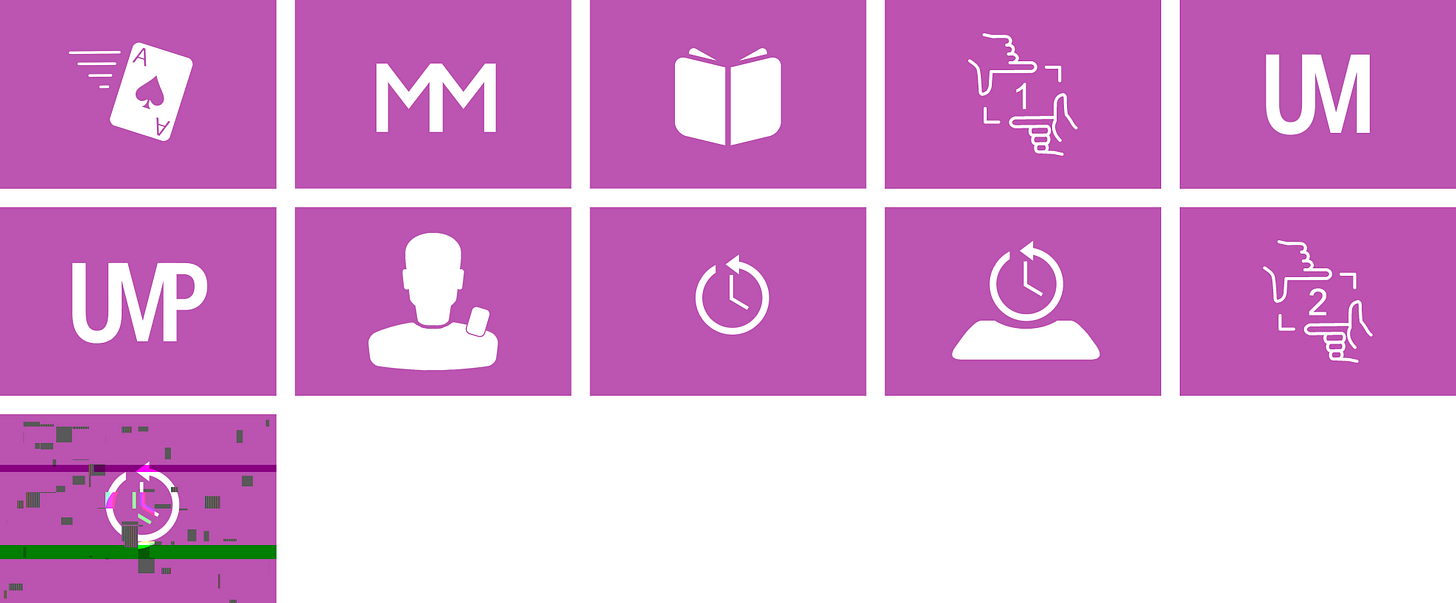 MagicMask - Upon command with this software you can freeze a section of your screen, do whatever you like behind this digital mask and then continue. This is Marc Kerstein and Seth Raphael's diabolical creation. Perform breathtakingly clean predictions and so much more. For macOS 10.14 or later. Featured as a finale on America's Got Talent and broadcast on national chat shows around the world. 
Bonus Post: WikiTest Settings for Remote Performances - Unveiling the very best ways to use WikiTest for remote performances. Near perfect mind reading miracles (for owners of the App).
Harry's Switch - This switch is Harry De Cruz's ingenious method to swap playing cards, billets, pay envelopes, and other similar items in a video chat context.
The Expert at The Chat Table: Enhancing your Video Quality: Part 1 - Join expert cinematographer, Larry Fong, as we share the first half of his interview featuring tips and tricks for improving your all-important camera and lighting set up. 
UniversalMask - UniversalMask allows you to digitally mask a portion of your webcam's live feed, allowing some impossible effects. This is MagicMask for everyone who couldn't use MagicMask. Works on Windows and Mac, using OBS.
UniversalMask Preview - This OBS set up, developed by David Agrawal, will allow you to see exactly which areas of your video feed will be hidden by a mask in real time.
The Zoom Switch - An ultra-clean low tech switch: Predict almost anything perfectly, with complete ease. It's direct, it's simple, and it's now yours.
TimeShift: Delay - Introducing TimeShift, a brand new software tool that unlocks never-before-possible magic in video chat settings.
TimeShift: Delayed Mask and Participant Delay - In this post we explore two astonishing new uses for David Agrawal's TimeShift, changing time itself to create amazing magic!
The Expert at The Chat Table: Enhancing your Video Quality: Part 2 - Expert cinematographer Larry Fong shares more of his tips and tricks that will help show you and your magic at their best in your video chat shows. 
TimeShift: Collected Effects - Some think there's nothing new in magic. They haven't seen TimeShift. The possibilities are mind-bending!
Concepts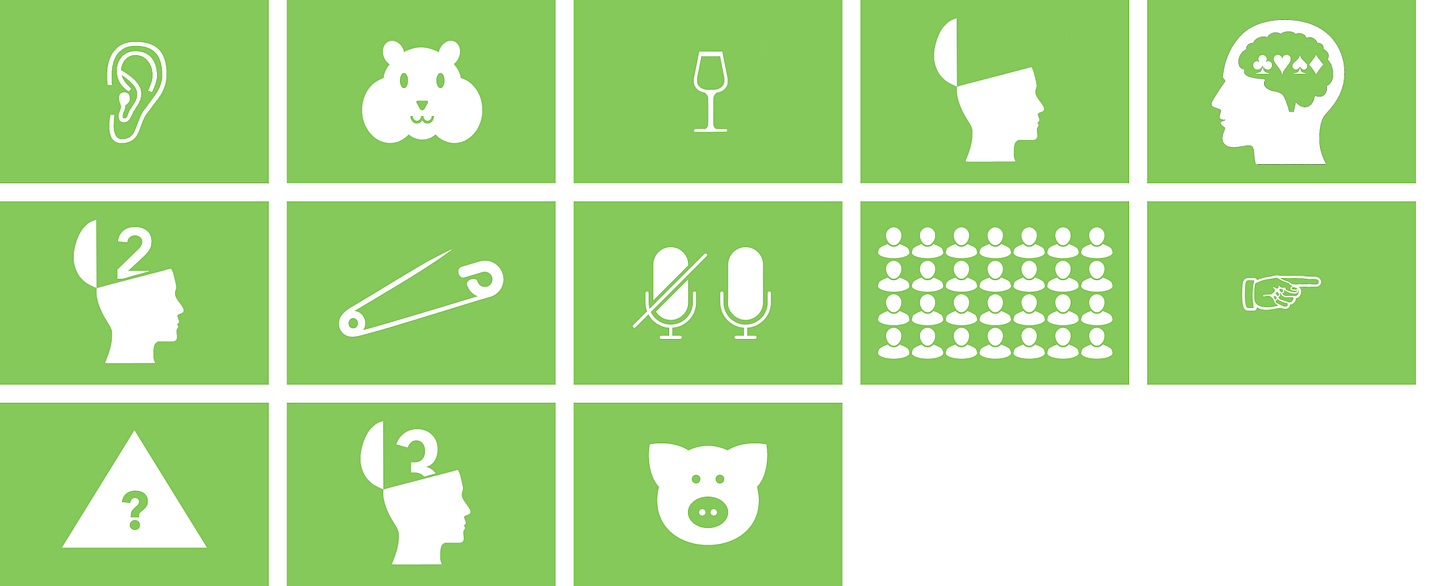 Audio Deceptions - Explore using pre-recorded audio to shore up your methods, create dual realities, make things seem impromptu and significantly amplify a wide range of your existing effects.
Off (With) the Tops of Our Heads - Reveal thoughts visually, create impossible objects, and knock them dead with a killer Any Card At Any Number. 
Ideas for MagicMask: Prediction Effects - Spice up your prediction effects using MagicMask with this collection of ideas and visual enhancements. 
Unpredictable Ideas for MagicMask - A startling array of non-prediction effects utilising the wonderful MagicMask
A Livestream Pathway - Max Maven shines a light on a mysterious magician who built a legend in the late 1920s, and explains how his work is newly applicable today.
Off (with) the Top of our Heads: S2 - How to add an extra boost to your kicker predictions, a food-based miracle, an astonishing book test and an online version of one of the most popular stand-up effects.
Three Direct Card Tricks - A named card appears on your back. A named card rises from the untouched pack. A thought of card is spelled to. 
Dealing with Applause, or the Lack Thereof - Siegfried Tieber shares how he has tackled the challenges of applause, or a lack thereof, in this thoughtful, practical and rich piece.
The One Great Deceit - Join Steve Will and Luke Jermay as we explore a powerful approach to touching each an every member of your audience. 
Virtually Touching - Luke Jermay's response to Everyone is Unique, Just Like Everyone Else. Pure gold!
Off (with) the Top of Three Heads: S3 - A quick revelation, a terrifying type of pre-show, and the inside scoop on how to record your shows. We cover it all in this collection of contributed ideas.
Max Maven's Four-Sided Triangle: A Zoom Treatment - An illustration of how to adapt a powerful pre-existing routine to Zoom. 
More Masking Magic - In this collection of Masked Magic we explore the possibilities for miracles with a hairdryer and astonishments with a plastic pig, as well as some more conventional magic.
Essays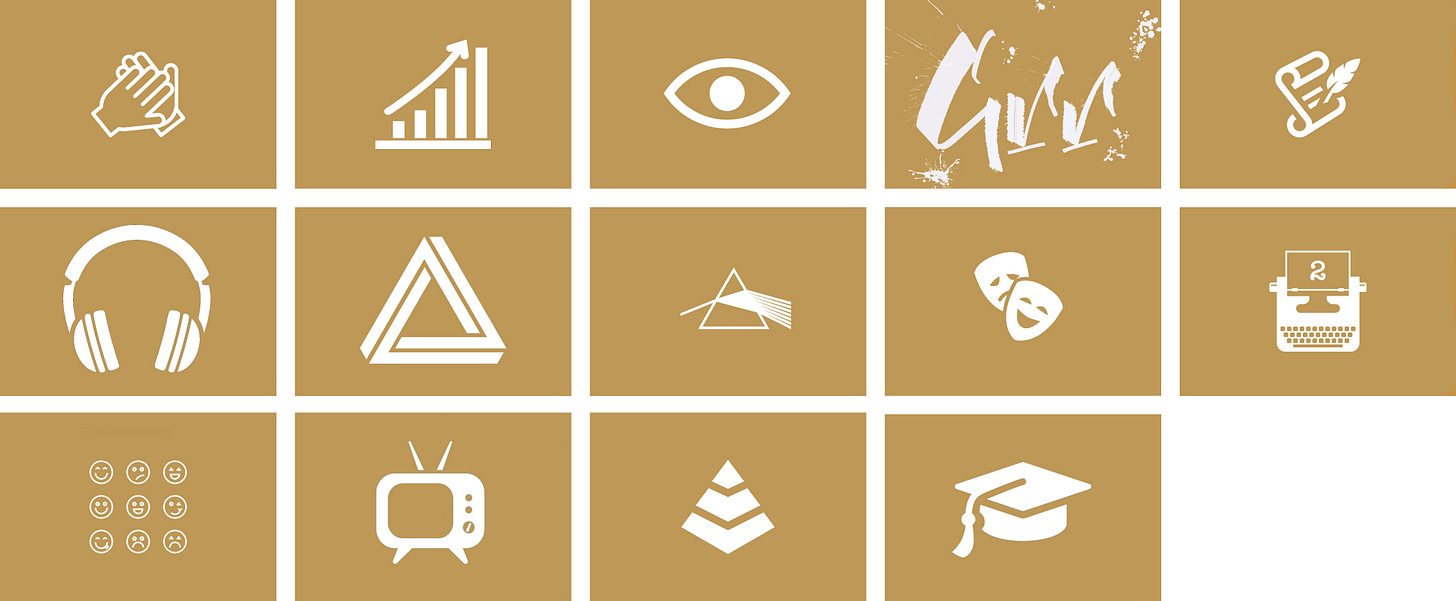 Video Chat Magic Will Never Take Off - Fooling people is easy. Connecting with them is hard, particularly by video chat: So why do we think there's potential in this new performance space.
The Folly of the Crowd - Explore one of the most powerful and established 'tricks' in all of broadcasting and how you can use it in your video chat magic to ramp up any audience's experience, engagement, and laughter. 
I Felt Like a Rant - How strong a trick do you need in order to be entertaining? And is that really the right question…
Are You a Prioritisationalist? - Create vastly more connection with your audience by using this simple technique. It could be the most important thing you do to enhance your performances. 
Busier Than Ever! - In this short podcast we interview an exceptionally busy children's entertainer who has successfully pivoted his business to the new world of video chat.
A Quirky Approach to Magic - Richard Wiseman's YouTube videos have received half a billion views. Learn a selection of lessons from his direct experience in an exploding medium and how they might be applied to video chat. 
Full Spectrum Magic - How might participation and interaction change audience engagement levels and why is this question more important than ever for video chat?
Before the Zoom Rush - Augusto Corrieri looks to the worlds of theatre and performance art for examples of artistically driven innovation that could inspire new approaches to magic for video chat.
Scripting Magic 2.1: Part 1 - Pete McCabe, author of the critically acclaimed Scripting Magic 1 and Scripting Magic 2,  joins us to share how he is thinking about scripting for video chat performances.
Scripting Magic 2.1: Part 2 - Pete is back to interview one of the most experienced Zoom magicians on the planet, Mr. Paul Draper. This is gold!
The Return of the Prioritisationalist! - Learn from great TV programmes and hugely successful magicians about how to make Zoom magic engaging?
Interactive TV Tricks: A Collection of Some of the Best - Explore a selection of interactive TV performances and see what we can learn from them for our Zoom shows. 
My Pyramid of Priorities - Siegfried Tieber is back with his powerful framework of priorities for designing effective shows. 
What We've Learned from Video Chat Magic - Before we say farewell we wanted to share a handful of the most valuable things we've learned over the past six months.
Miscellanea

The Cost of Doing Good - As Video Chat Magic grows, so does the impact we can have with our donations. This short article touches on one of the key aspects of how the money is being used…
Why are we donating 100% of the proceeds from Video Chat Magic? - A very short introduction to Effective Altruism and how we think about donating to charity.  
Thanks to You - What can we expect to collectively achieve with the subscriptions to Video Chat Magic? In this short article, we give a little context. 
Coming To Your Inbox Very Soon - A recap of May.
New Website, and Other News - A summary of June
Two Months In... - July update and a request for your assistance in sharing VCM.
Half Way (T)Here - Looking back on the first three months and looking forward to what is coming soon...
Day 124 of Video Chat Magic - What has happened in the first 124 days of Video Chat Magic, and what is coming next...
Thank You - Before we move into Video Chat Magic's final month, we wanted to get in touch and share a few thanks.
What a Month - September was packed with great content, and October is set to include even more astonishing magic!
Impact: Now and in the Future - What we have achieved and how we might do even more...
If you'd like to join our team of contributors, get in touch: VideoChatMagic@gmail.com